Hey! This site is reader-supported and we earn commissions if you purchase products from retailers after clicking on a link from our site.
by Brent Blevins
(Texas, USA)
New Unloader Valve (for home modified compressor)? I have two old compressors that I found on trash day. One had a bad tank (horizontal Model #919.178410 from Sears made by DeVilbiss), and the other had no power head (vertical Campbell Hausfeld not sure of the model number).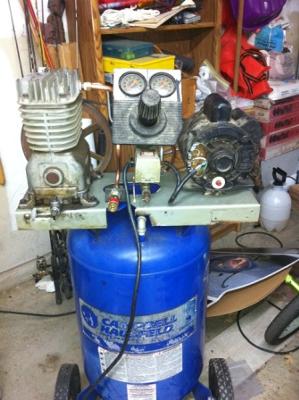 It is a Frankenstein, and an ugly one at that but I am only out the price of the soft copper tubing I had to bend.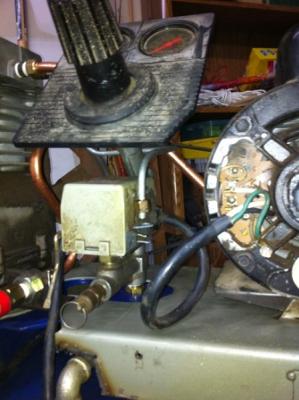 I cut the mounting plate off of the horizontal tank and placed it on the vertical tank. I had completed plumbing everything and was ready to test.
As the pressure came up, I realized that the nut for the compression fitting to the unloader valve were loose and it seemed to be leaking. When I tried to tighten them, the valve snapped in half. I do not want to but a whole new pressure switch for $70 from Sears. Do you know of any sources to buy just the unloader valve?
_____________________
Congrats on some excellent working, putting two older compressors together to form a Frank… er… compressor.
Although $70 seems to me to be a pretty good price for a compressor, I do think if you shop on line you can get a pressure switch and unloader valve combo for less.
Failing that, I don't have any sources in Texas… but I'm sure some of the visitors will. H
Thanks for the photos..
_______________________
Failing to start under pressure
Compressor will start and pump up OK, but once it needs to start again, it sounds like it is struggling and won't start. Letting the pressure down will allow it to start again.
___________________
G'day, and thanks for writing in.
That symptom is typical action of a compressor that has air trapped over the piston(s) and suggests that your compressor has an unloader valve problem.
Empty the tank, let it start and fill to cut out, and monitor if the unloader valve works.
Since you didn't indicate the make or model, and I cannot comment on the type of unloader that compressor has. If you need more help, navigate to the unloader valve page on this site for some tips.
---
Reconnecting a compressor ~ an extra air line???
by steve
(douglas,ma)
I have a 60 gal 5 hp single phase compressor (energair) i bought at an auction.
It has a 1/2″ copper line off the compressor head to a tee in the tank. Off of this tee is a auto-mufler that has a 1/4″copper line about 12 " long that i do not know where it goes.
There is a pressure switch attached to the tank. both nipples going into the tank,one for the supply from the compressor and the nipple from tank to pressure switch have a 1/4 " copper refrigeration tube connecting them near the tank. Where does this 12 " line go to and can I just remove it and plug the tee?
_________________________
Steve, it's very difficult to be sure without seeing the set up on your compressor. Wish you had uploaded a photo.
I think that the line that ends up nowhere may have connected to an unloader valve.
You can try blocking the line and letting the compressor run up to the cut out pressure level. If it does that OK, then slowly bleed air from the tank until the cut in pressure level is reached.
If the compressor tries to start and cannot, that would support the "missing unloader valve" theory.
Good luck. Keep us posted, wont you?
---
Pressure relief on compressor cylinders
by carroll
(garland texas USA)
After the initial build up of air shuts off and you have a call to start it will not start appears to be under pressure?
________________
Hi Carroll:
If I'm understanding correctly, your air compressor reaches cut out pressure, stops, and after you use air and the pressure drops, your compressor can't re-start?
Pull the plug and then drain the tank to zero.
Plug it back in (after closing tank drain valve). Does it start OK?
Now, listed to the small valve near the pressure switch. When the pressure switch shuts off, that valve should dump air. If it does not, then you need to clean, fix or replace your unloader valve.
See Unloader Valve linked from the Valve page for more info.