Hey! This site is reader-supported and we earn commissions if you purchase products from retailers after clicking on a link from our site.
Air compressor won't start or it cuts off when refilling?
by Steve Dillman
(Fort Wayne IN)
My Ingersoll Rand 5hp230V single-phase two-stage compressor won't start. Has been in production for 5 1/2 years with no problems. Came into the shop and found it caused the dedicated breaker to trip. I reset and the buzzing noise at the compressor caused me to shut it off.
I installed a new pressure switch and the problem did not change. I can manually turn the flywheel. I took off the belt to the motor and with juice turned on, it powers up and turns just fine. I tore the motor (mechanical pump) off and everything seems fine. No problem with pistons, cylinders, or shafts. I don't want to press bearings out unless that seems like the solution.
Any ideas before I reassemble? I didn't fix anything during the tear-down, so I assume the problem is still there.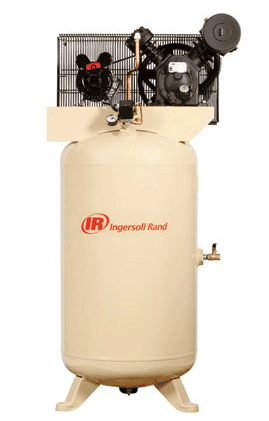 ---
In order for your compressor to start with any kind of load, the motor needs a boost from an electrical starter or capacitor.
The buzzing sound suggests to me that it's this part of the motor start process that has failed.
Without the starter/capacitor, if there is any load when the motor tries to start, it pulls more amps than the circuit has available, and pops the breaker.
That's where I would look next. Please check and let us know.
---
My compressor fills up fine but when it goes to refill motor switches off
My compressor fills up fine but when it goes to refill its self the motor turns on then turns off. I let it sit for a little while then it works.
---
Hello there. Yes, this is a weird one!
When your compressor has been sitting unused and you plug it in or switch it on, it starts and runs fine up to cut out pressure. Then, when you have used some air to the cut-in pressure point, your pressure switch trips, the motor starts, then stops, and you wait for a while, and then it starts again?
I need a bit more info to try and help;
~ How long from the motor turn on to the motor turn off?
~ How long do you wait before the compressor starts properly?
~ When the compressor reaches normal cut-out pressure, do you hear it unload?
~ Can you feel the motor to determine if it's excessively hot after filling the tank the first time?
~ How does the motor shut off? Does the pressure switch trip again, or is it still calling for air and the motor just stops?
It might be a start capacitor problem or could even be a pressure switch issue, but I'm not absolutely confident at this time. If the motor gets too hot, it might be a thermal overload with an auto-reset issue.
---
I Have the same compressor problem
by: Blaine Meyer
My compressor has a similar if not the same problem. It starts fine ad fills the tank to the proper pressure. When the pressure drops it refills one or two more times. After that, the motor seems to be loping, starts for a second, and then stops. I just replaced the pressure switch the other day the problem is the same as it was before the pressure switch was replaced. I also checked and cleaned the Check valve which looked pretty clean. Any ideas?
Comment? Please add it here along with photos to help others help you with your compressor and equipment problem!