What are the motor specs are needed to convert IR T-30 to single phase?
by Chris
(Pittsburgh, PA)
I bought an IR T-30 with a bad motor. I need to convert it to single phase.
Here are the specs of the current motor:
Brand: Baldor
Cat #: 37F360X532
Frame: 254T
HP: 15
Volts: 200
Amps: 44.8
RPM: 1760
Hz: 60
PH: 3
Nom Eff: 87.5%
PF: 80%
What specs would the single-phase motor need for this compressor?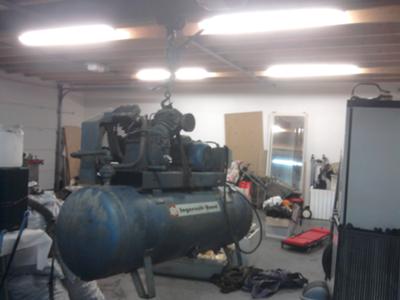 _________________
Well, I'm not an electrician, but if I were looking for a single phase motor for this compressor, I would get a 15 HP, 230 Volt, 1760 RPM. I know they are out there 'cause I just found one on line.
I also suspect that you're going to need a major amperage breaker because of the inrush amp draw for a motor this big.
However, let's see if someone that knows electricity a lot better than I has a comment too, K?
---
Question about an Ingersoll Rand T30 motor size
by Terry Slane
(Wildomar Ca,)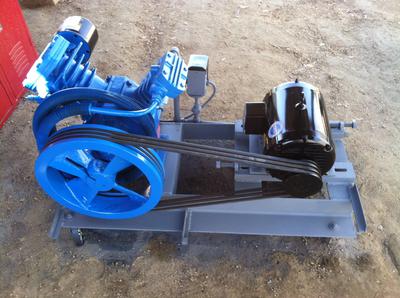 Hello Bill
My name is Terry and I recently acquired a T30 Ingersoll Rand two stage compressor that has a 7,5 HP Balder 3 phase electric motor 1725 RPM. My question is I would like to change the motor to a single phase 5HP motor, can you tell me if this will run my compressor ok?
____________________
Motor/Pump T30 / 2545
by: Doug in s.d.ca
The pump is a 2545?
The pump is supposed to run on 10-15 HP, so that motor is already a little small. The pump RPMs are supposed to be in the range 400-1050.
Can you run it with the existing motor?
Can you figure out the pump speed?
So, if you can get a motor pully that runs it at 400 or so, then it may work.
Good luck.
---
IR Type 30 – we are not sure that the motor is turning correctly
by Brian
(Hicksville, ny)
we just bought a compressor with no fly wheel. We were able to get a new wheel but we are not sure that the motor is turning correctly. When looking at the motor does it turn clockwise or counter clockwise?
Regards Brian
________________________
T-30 Motor Direction
by: Anonymous
Look at the flywheel on the pump. The flywheel is also a fan and should pull air across the intercooler finned tube behind the flywheel.
So this will determine the correct rotation.