Hey! This site is reader-supported and we earn commissions if you purchase products from retailers after clicking on a link from our site.
by Bill Webb
(Alachua, Florida)
Makita 700
4 years old
Will run continuously but only build 40 psi.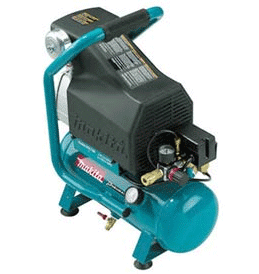 Used in Florida garage shop, light use with a pin nailer.
Just got a framing nailer to build a 20 foot fence and it just wouldn't work a few days into the project.
_________________________
Makita mac700 won't build pressure
by: Bill
Howdy Bill… that's a pain, isn't it, when you go to use your compressor and it won't work properly.
Any air huffing back out of the intake port when the compressor is running?
If so, that suggests the intake valve is compromised. There are a number of valve plates for this compressor, so you might as well change them all if you are changing one. Replacing the valve plate should help stop air from backing back out and improve pressure build. Make sure if you do you replace the gaskets too.
Any air coming out of the oil fill tube when the compressor is running? That's pointing to piston seals if there is, and you'll need to tear down the pump to check the condition of the piston, the seals, and the cylinder wall.
Give us some idea if any of this helps, K?
________________________
Thanks
by: Bill Webb
I will definitely check both of those.
---
New comment? New question? Please add it here along with photos to help others help you with your compressor and equipment problem!