Is your Makita air compressor struggling to reach cut-out pressure? And you're unsure how to diagnose and fix the problem? Well, fear no more! This article will provide you with all the relevant information on why your Makita compressor can't reach cut-out pressure, including troubleshooting steps to follow!
Table of Contents
Why Won't My Makita Air Compressor Reach Cut-Out Pressure?
The most likely reason why your Makita air compressor is not reaching cut-off pressure is due to failing or compromised parts. These include:
Head gasket
Intake valve
Piston seal
Pressure switch
Pump pressure valve
It is very possible that your Makita compressor appears to be building pressure fine, but at some point during cycling, the pressure stalls and the air is unable to flow into the tank due to a failed head gasket.
It could also be a failing air intake valve, causing the air will blow right back out of the intake valve instead of being properly drawn into the compressor.
If the piston ring seals are not working as they should, the pumps will lose significant pressure and efficiency, resulting in a lack of pressure being built in the compressor. The pump pressure valve could be faulty, allowing air that flows into the tank through it to be drawn right back out of the tank. Other possibilities include leaks in various parts of the system.
So, if your Makita air compressor won't reach cut-out pressure, you should be able to diagnose and fix the problem by following these troubleshooting steps:
Conduct a pump-up test
Inspect system for leaks
Clean filters
Inspect system valves
Evaluate belt condition
Inspect pump rings
Inspect air/oil separator
For more detailed information on each of these Makita air compressor troubleshooting steps visit our Air Compressor Won't Reach Cut-Out Pressure Troubleshooting guide!
Reader Questions & Responses
Makita Air Compressor Not Building Pressure Past 60 PSI – Makita Air Compressor Troubleshooting
Question
I have a Makita MAC2400 that is approximately six years old. It just started running nonstop and the pressure in the tank and the regulator pressure both stop on 60 PSI.
I can empty the tank so there's no pressure at all and when I turn it back on it is quiet and sounds like normal however it just runs without building up to the normal cut-off pressure.
I hate the idea of starting to switch out parts without knowing what might be the main reason it started doing this.
Any ideas would be greatly appreciated!
Response
Bob, that sounds as though the pump can build pressure to a certain level, in this compressor case 60 PSI, but when the tank pressure gets there, instead of more air being pushed into the tank, something has failed in the pump at that pressure to prevent that.
That something, and this issue is replicated in time by almost all small reciprocating compressors, is that a gasket between the low and high-pressure side of the pump valves lets go at that pressure. When that happens, air cycles back and forth instead of being sent into the tank.
The compressor keeps running and seems to work fine, but no further air build-up takes place.
I suspect a valve and gasket kit purchase is in your future, and a teardown of the pump to replace these items.
Good luck and keep us posted if you will.
---
Makita MAC700 Air Compressor Won't Reach Cut-Out Pressure – Troubleshooting Makita Air Compressor
Question
4 years old Makita 700 will run continuously but only build 40 psi.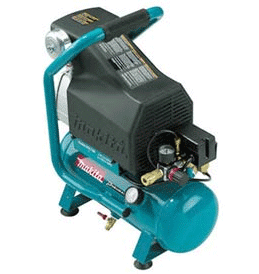 Used in Florida garage shop, light use with a pin nailer.
Just got a framing nailer to build a 20-foot fence and it just wouldn't work a few days into the project.
Response
Howdy Bill… that's a pain, isn't it, when you go to use your compressor and it won't work properly.
Any air huffing back out of the intake port when the compressor is running?
If so, that suggests the intake valve is compromised. There are a number of valve plates for this compressor, so you might as well change them all if you are changing one. Replacing the valve plate should help stop air from backing back out and improve pressure build. Make sure if you do you replace the gaskets too.
Is any air coming out of the oil fill tube when the compressor is running? That's pointing to piston seals if there is, and you'll need to tear down the pump to check the condition of the piston, the seals, and the cylinder wall.
Give us some idea if any of this helps, K?
---
If you have any questions regarding why your Makita air compressor won't reach cut-out pressure, please leave a comment below, with a photo if applicable, so that someone can help you!