Hey! This site is reader-supported and we earn commissions if you purchase products from retailers after clicking on a link from our site.
by Jim
(whitefish, Montana)
My Mac 5200 won't budge any noises, strain, clicks, or vibrations. Just quiet dead. There's the power to the pressure switch when I flip the unit on (as measured by voltmeter), so whatever's going on sits deeper inside it.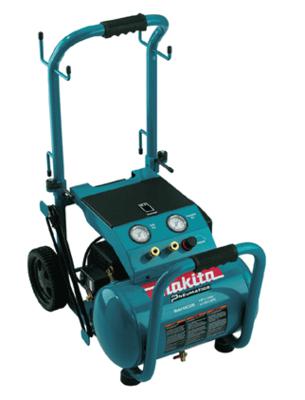 Hints: I used it last week, all was fine; then I drove it 200 mi. It clicked and chugged briefly before it died,
Rats. Any & all ideas are most welcome.
Thanks
---
Makita compressor dead
by: Bill
With the tank empty of air, use your meter to see if power is crossing the pressure switch to the motor circuit.
If so, then power is getting to the motor, and the absence of any sound would indicate that the motor isn't trying to start.
That being the case, see the page on this site about testing your start capacitor – under troubleshooting – as that is the likely culprit.
---
Mac 5200 dead
by: Spam Cop
Jim:
There is a thermal overload 'switch' mounted near the fan end of the motor. I don't know if it's supposed to reset or if it is manual, but it's worth a look.
If that's the immediate problem, then I'd check the capacitors while you have them apart.
---
Exact same problem
by: Rob
This comment is not about another compressor…. my mac5200 did exactly the same thing.
Worked fine yesterday running one framing nailer. then this morning turned it on weak tried to start then nothing.
Had my buddy test the switch he said the switch is fine. This compressor's second season of what I consider light use…I work alone doing home improvement.
Couple roofs couple additions carports every year… I expected many years of trouble-free use… pretty disappointed.
---
Mack 5200 – Rob
by: Bill
My apologies. I guess I misread your original post.
Tell me, has anyone tested the start or the run capacitors on your Makita 5200 compressor? The symptoms suggest that it/they may be the issue, and that may also suggest that you use the air compressor for long periods of time at one time?
---
New comment? New question? Please add it here along with photos to help others help you with your compressor and equipment problem!