by richard
(peachtree city, ga)
Kargard Industries 755752 compressor
I am looking to buy at auction. It is very rough if not beyond repair. I may end up buying to just to try and rebuild.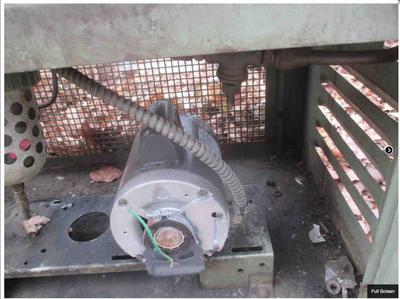 ____________________________________
Kargard Industries 755752
by: Doug in s.d.ca.
Looks to me like there should be a pump on the bottom shelf along with the motor – but there's just space there – are you sure it *has* a pump?
_____________________________________
Kargard compressor 755752 has knock
by: Rich
I have almost the identical twin to the one in your posted photos.
I had to put my own motor on it, but the pump seemed good. I've only ran it for a couple of hours and it has developed a knock.
I cannot find anything as far as parts listings or service manuals. I was just lucky enough to click on your post and recognized it immediately.
Mine, I believe is in quite a bit better condition. Do you have the covers for both front and back?
They are a mesh type steel cover that is held in place with wingnuts. I would like all the info I can get. Thanks.

---
New comment? New question? Please add it here along with photos to help others help you with your compressor and equipment problem!