My SS5 compressor has worked flawlessly for years. Now the Ingersoll Rand SS5 is not releasing line pressure on shut-off?
Last week I noticed that when I manually turned it off (didn't allow it to reach 130 psi – where it typically shuts itself off), it did not make the typical noise when stopping.
It usually powers off and makes a several second hissing noise which, I assume, is the excess line pressure bleeding off between the cylinder and the safety valve. I have not run it up to the automatic shut off (assuming that it would shut off).
I don't have much experience with compressors, so I apologize if my question is redundant.
Any thoughts?
Thanks! by TJ, Minneapolis.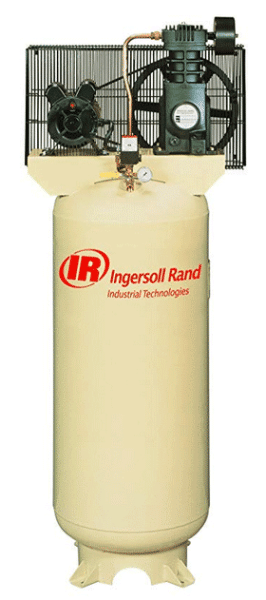 ……….
The sound you refer to TJ is, I believe, the unloader valve. When the compressor tank pressure reaches cut out, the pressure switch trips to off, and that also toggles the unloader valve to open and that will vent air over the piston.
How did you switch the compressor off? Was it a switch on the pressure switch that you toggled, or was it another that controls the power going to the pressure switch?
If you switched off the power at the pressure switch, and assuming that your compressor has an integral valve in that switch, that should have released air over the piston. Please add a comment with more details and we'll see if we can help.
---
Ingersoll rand SS5 will not build enough pressure to shut off says Bob from Wellesley Island NY. It gets to about 80psi and continues to run. Any ideas as to what would cause this?
Solved, says Bob. The problem is the valve plate gasket. It has a defect and tears right in the middle allowing the air to travel between the two valves fighting each other.
I made my own gasket with a high temp. material and coated them with copper spray on both sides. I put it all back together and just like magic it was fixed.
……….
Glad to hear it, Bob. Oftentimes OEM gaskets are not readily available, so good on you for making your own.
More pages and info about Ingersoll Rand SS5 compressors: