My compressor is an Ingersoll Rand SS-5 a 5 hp Electric. The problem I am encountering is that it pumps up to 90 PSI and then the belt begins to slip until it locks up totally. Then if I let it bleed down it repeats itself. I have replaced the head gaskets, and it got worse. Any ideas? Howard.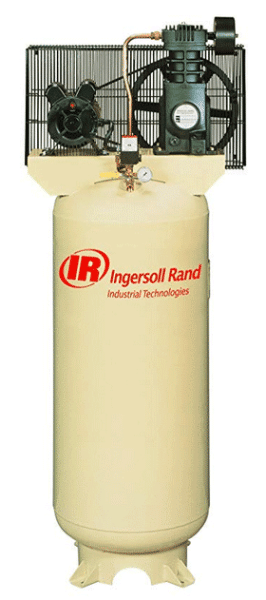 ……….
Does the motor lug down or keep spinning, Howard? Belt tension low if it's spinning. Check the check valve as well says Doug from s.d.ca.
……….
I also am experiencing a very similar problem with mine. It starts out great and gets to about 65 psi and in an instant the rpms drop and the belt starts squealing. I usually run and turn it off but if left it will bog the motor down to nothing and after about 20 seconds it goes back up to somewhat normal operation. I need help also! Thanks in advance for any tips, Ryan Renko.
……….
Did anyone figure out the problem, mine is doing the same. It will pump up to about 50 psi then the belt starts squealing and the compressor starts to lock up, this from Jacob.
……….
Doug from s.d.ca says to Jacob, if you need help it's very important to answer questions asked to provide the information to help us help you.
Still, if you're lucky, you may just have a bad check valve at the tank. More likely, and if that isn't it, your second stage intake valve is broken. Unless it's something else which we can't figure out for lack of information from you. Good luck and let us know what's what.
……….
That the compressor "locks up" as the pressure builds suggests that it's a pressure related problem, and the first thing to check is the tank check valve to ensure that it's not blocked from opening as the pressure builds. I doubt this is the issue.
That the change in gaskets made the problem worse confirms, to me at least, that it's the pressure creating the problem.
If it's not the tank check valve, then I believe it's likely to be the pressure valve that's reacting to back pressure from the tank line as the tank gets higher pressure, and it's time to tear down the pump and check the valves, but also the entire compression chain if the valves appear fine.
By compression train I mean the piston apparatus, the piston seals, as well as the valves.
If all are good, then the focus must turn to the motor, but I don't think it's a motor issue dues to the "locking up". That's typically pressure related. Please do the checks and let us know as a comment in this thread as to what you found.