Hey! This site is reader-supported and we earn commissions if you purchase products from retailers after clicking on a link from our site.
A common problem often found on Ingersoll Rand air compressors is them not being able to stay running. This article will provide you will all the possible reasons as to why your Ingersoll Rand air compressor won't stay running, along with existing reader questions and responses related to the issue.
To learn more about Ingersoll Rand air compressors, visit our brand page here!
Table of Contents
Reasons Ingersoll Rand Air Compressor Won't Stay Running
At times you might have to face an issue with Ingersoll Rand not staying running, where the power light is on, and it might seem like the air compressor is on. But the Ingersoll Rand air compressor will not be working and there will be no pressure in the air compressor. This is often due to the following reasons provided in the table with tips:
| Reason | Tip |
| --- | --- |
| Power issue | Check all the wiring. and fix if necessary. Press the reset button on your air compressor and hopefully, this will solve the issue. |
| Use of an extension cord | An extension cord with insufficient power will cause your compressor to not stay running. If you must use an extension cord, make sure suitable for this kind of application. |
| Faulty run capacitor | If the run capacitor keeps tripping, the motor will shut off, and you will likely need to replace the run capacitor to be able to use the air compressor as required. |
| Faulty unloader valve | If you have a problem with the unloader valve, it may sound like the pump is working extra hard at start-up and during the initial stages of operation before the compressor stops. May need replacing. |
| Air leak | Check for air leaks and fix them. |
| Oil leak | Ensure there are no oil leaks, replace necessary parts to fix the leak. |
| Overheating motor | It may even be as simple as the compressor overheating, meaning that the thermal overload is tripping and the compressor is shutting down to protect the motor, allowing it time to cool down. |
Ingersoll Rand Air Compressor Won't Stay Running Reasons & Tips Table
Reader Questions & Responses
Ingersoll Rand Air Compressor Will Not Stay Running – Ingersoll Rand 185 Air Compressor Troubleshooting
Questioner
The compressor starts fine and will run as long as you hold the key switch in the start position. As soon as you let the key switch return to on position, it loses power to the fuel pump.
Have jumped power directly to the fuel pump, and will run fine then.
Is there a solenoid or switch somewhere that could go bad, and cause the machine to lose power to pump when the switch is in on position?
Just put in a new switch, and double-checked power out when in on position, and there is power going out.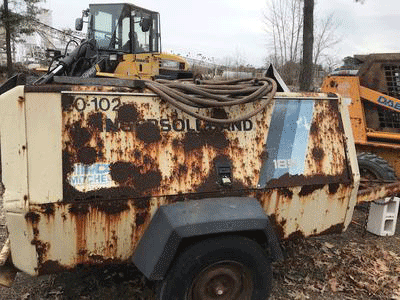 Response
The power is leaving the switch? but not getting to the pump?
That says the wire is broken somewhere.
If you can't easily trace it to find the fault, you can just run a new one. It's possible the old one could short at the fault, so disconnect the original (and tag it) too.
Response
I had the same problem on my 1995 Ingersoll-Rand 185. The problem was that the over temp sensor on the screw head somehow become disconnected. The problem you are having sounds like mine, and that is one of the safeties is kicking on preventing the machine from running any longer double-check all of your safety sensors connections.
---
If you have any questions regarding Ingersoll Rand air compressors not staying running, please leave a comment below, with a photo if applicable, so that someone can help you!