Hi folks – I seem to have inherited an old Binks compressor head. Just rolling it over by hand it sounds good.
Looking for any info anyone could supply me about it. The data tag reads: Binks 106, 7-299700l, size 212×212. Sure would like to know what HP motor, rpm req'd, and CFM. Any help appreciated… thanks, Plain old Bill .
……….
You might want to upload some photos so folks can get a look at it, Plain old Bill. – Moderator. Shortly thereafter, Plain old Bill offered up the following photos.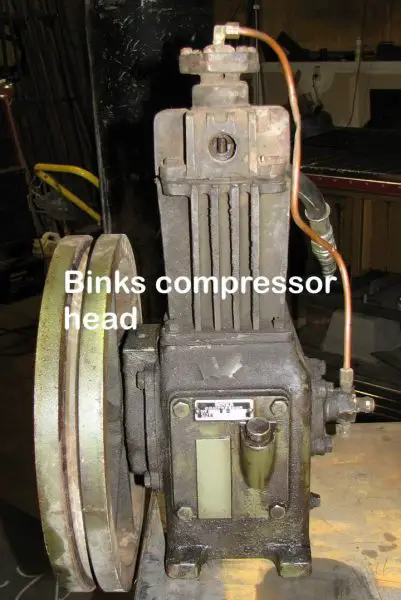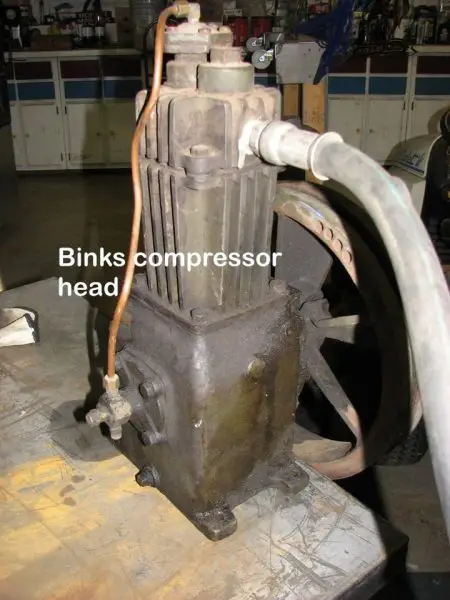 ……….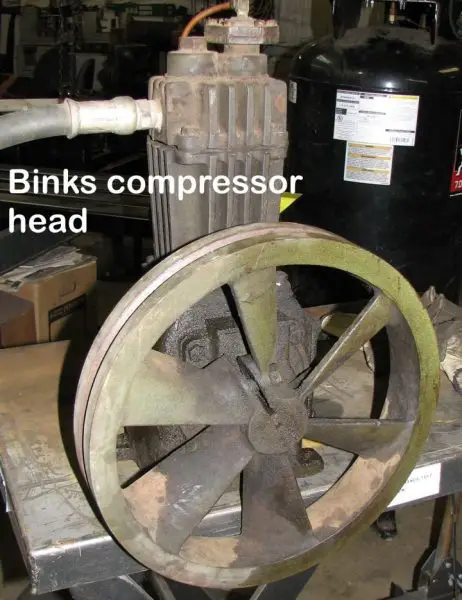 By "head" you mean a bare pump?, asks Doug in s.d.ca. Doug continues… That's a new one on me…all I can say is it's 2 1/2 inch bore with a 2 1/2 inch stroke. Was there a motor with it?.
……….
P o B says, No motor w/ it. Pulled out of a storage shed after ?? years.
……….
Thought I might have found it, but no. Or maybe. Maybe see this page about vintage magazine ads.
Anyway, if you decide to try to run it, you probably don't want to go more that 900 RPM or so at the pump. Let us know if you find anything more, please.
Good luck. Doug
……….
Hey Bill, what you have there is a Brunner, possibly A650 model, they were absorbed by Dunham Bush in the '60s.
I think and parts are extremely rare to find, if impossible!
I just went through one for a friend and they are built like a battle ship! Great little compressor, about 5 CFM, @ 600 rpm!
I had to make all the gaskets and recondition the valves and seats and it works great now, so my friend says, lol. Just my 2 cents worth, lol,
Have a great day!!, Buster