I bought an impact wrench, and love it. However, I have a 50 gallon Sears compressor, about 5 yrs old, and before the wrench, I never had problems with it. I drain it regularly (correct, there's no moisture filter on it).
At first the hammer worked great, but last summer it seemed to lose power. I maxed the pressure outlet, but this didn't help.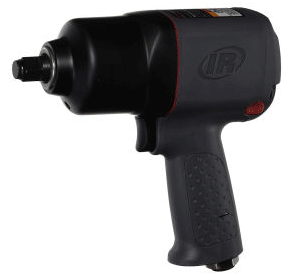 Exactly what happens. I put the wrench on lug nut # 1, and it comes off just fine… so do numbers 2 and 3. But on 4 the hammer loses torque, then it just stops. If I let the wrench sit for a few minutes it gets a little bit of oomph back, but not enough to loosen a lug nut.
_________________________________________
Try this on your Impact Wrench
by: Anonymous
Put a little Air tool oil 4 drops in the quick connect on the gun, it sound like the moisture in the compressor has slowly caused a little rust in the gun and the o-rings also need lubrication.
Have you had this problem with the same gun before? Sound like you don't have enough CFM at the correct PSI. You probably need 100psi @ 9-10 cfm at a minimum.
__________________________________________
Impact wrench oil
by: Doug in s.d.ca
Oil.
Tool oil.
Not engine or compressor oil.
And set your regulator to 90PSI max, or whatever the tool says.
If that doesn't do it, check your regulated pressure right after the wrench quits.
If you have pressure in the tank, but not after the regulator, then the regulator is not right. You can try oiling that, too. If it's still not giving you what it's set to, and the tank is at least 5PSI higher, then you need a new regulator.
_____________________________________________
Responses
by: Edward
Thanks for the comeback(s)… the air impact wrench is new… it's cheap (Chinese) but I bought it because I was having the same problem with a PREVIOUS wrench. It sounds like I need to lube the regulator from what I've read. I haven't a clue how to do that. Originally I had set my output psi to 90, and I changed it to 110, then back, with the same results.
______________________________________________
What is the CFM output of your air compressor at 90 PSI, and, what is the demand of your impact wrench in CFM at it's minimum operating pressure?
If the latter exceeds the former, you have a supply problem.
If you are not comfortable disassembling and reassembling the regulator, a new one is not a huge investment, though I suspect it's not the regulator that is the problem.
Bill
---
New comment? New question? Please add it here along with photos to help others help you with your compressor and equipment problem!