by marc erasmus
(cape town south africa)
Hi Guys, I have been given a hydrovane 15 and am wanting to set it up. Does anybody know what all is involved or what i will need please? i dont see a pressure switch on it and i am unsure as to how much oil it takes. I do have the motor, reservoir and stand, this pic was taken while i am busy cleaning it.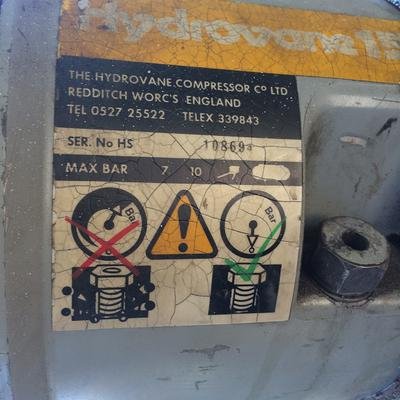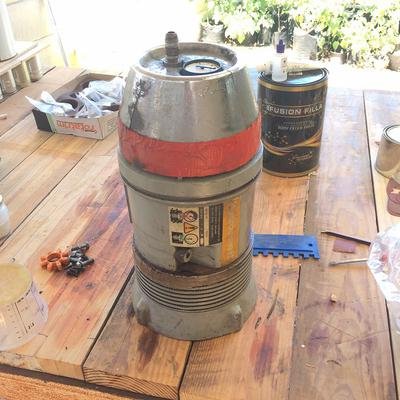 Also, in the 2nd pic,the decal indicates max bar with a giant yellow and black exclamation mark, can anybody tell me what they are trying to convey with this decal?
Really need some help here please.
Kind regards Marc
___________________________________
Hydrovane setup
by: Doug in s.d.ca
dunno about the oil, but I think the decal is telling you not to remove that plug near it, 'cause it's under pressure. If the gauge reads zero, then it's OK to remove.
____________________________________

Setup
by: Carl
Hi,
To answer your questions
The large exclamation mark just means donot open the the oil whilst the pressure gauge ON THE COMPRESSOR is showing pressure, otherwise you will have high pressure oil squirting everywhere.
How much oil, just fill it until it is overflowing over the oil fill hole, basically, until you cant get any more in.
I see the motor is removed from the airend, make sure you have the rubber spider fitted between the pawls when you put it back together otherwise it will damage them.
Hope that helps
Carl
______________________________________
…and another thing
by: Carl
Oh and there is no pressure switch needed, it is preset within the compressor itself, you shouldn't need to adjust anything.
The spider I mentioned earlier is the yellow thing in your photo, but I'm now guessing you know that.
It might be worth getting it serviced if you do have any problems with it, that normally sorts anything out.
Just one more thing, make sure you use the correct oil for vane compressors and these need servicing every 2000 running hours, or every 12 months, whichever comes first
Good luck! These type of compressors are very good for workshops etc.
Carl
_____________________________________
Thanks
by: marc
Thanks guys for the info, VERY much appreciated.
I had to change the motor from 3ph to single phase so there was no way of telling the correct direction,any ideas please?
strange thing is,when i run it in either CW or CCW i don't get any pressure out the front and the body of the compressor is getting very warm +- 40Deg C same with the power cable after just a few min of running…
The motor i am using is a 2850rpm, 2,2 kw, the same specs as i saw on the original motors plate.
When i run the vane, it is not getting up to speed…it's as if it is being stopped by something. Any idea's as to a possible cause please?
I have taken the vane apart, all looks as i would expect,got enough oil…does anybody think the filter may be blocked and causing this heat?
Regards
Marc
_________________________________________
Hydrovane
by: Roger
If there is no air coming from the unit, and it is running in the proper direction (VERY IMPORTANT!), and the onboard gauge shows pressure, there is likely a problem with your minimum pressure valve not opening.
If there is no pressure showing, then it seems your inlet valves may not be operating properly, or the pressure setting has been monkeyed with.
_____________________________________
Hydrovane
by: Roger
Inside the compressor, on the stator, there are small oil relief valves that open up to prevent hydraulic lock during startup. If these are not operating, the compressor will have a hard time getting going. Are you sure your motor is healthy? No bad caps?
______________________________________
Thanks for Hydrovane help
by: marc erasmus
many thanks for all the help, very much appreciated. i have my machine running now and going like a bomb too 🙂 !!
_______________________________________
Hydrovane setup help
by: Doug in s.d.ca.
Good you got it going –
Would you elaborate on what you found, please? That may help others.
---
New comment? New question? Please add it here along with photos to help others help you with your compressor and equipment problem!