How long will this tank run this air tool?
NM
Duration of pneumatic power tool using tank? How long in duration could I use a Chicago air grinder, that is rated at 90psi and 3 scfm?
Please assume that we regulated the pressure with a regulator appropriately.
How long (mins or hours) could i continuously use the grinder?
Link of Air Tool for specs:
www.bobstools.net/Store/CP875.html
Link of air tank for specs:
www.ansgear.com/Ninja_Carbon_Fiber_Air_Tank_p/ninjatank-90.htm?vm=r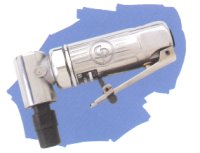 ___________________
Happy to post this for you. The answer will rely on the pressure in the tank when you start using the tool.
I have looked at the tank, and even though it promotes hundreds of "shots" with a paintball gun, my gut sense is that it wouldn't provide very much use time on an air tool like the grinder you refer to.
I don't have a method of gauging this duration myself. If you have already purchased the tank test it. If you haven't, I wouldn't waste my money it were me.
Anyone else have any ideas?
---
New comment? New question? Please add it here along with photos to help others help you with your compressor and equipment problem!