Whether you plan to restore your car to its former glory or you want to change the color of your car, there is typically one question that must be addressed: how long will it take to paint a car?
The question is simple, the answer is complicated. This typically depends on a number of factors and this article will provide you with all the relevant information you need to gain a better understanding of the time needed to paint a car.
Table of Contents
What Determines How Long it Takes to Paint a Car?
The question "How long does it take to paint a car?" is very common and those who ask it believe there is a generic response and all cars can be completed within a similar period. This is completely wrong! The length of time it will take to complete each painting project on a car completely depends upon the model and the shape the car is in.
If you're needing a collision repair then you'll add a few extra weeks. If you've got a very rusted car, expect to potentially add months. When it comes to determining how long it takes to paint a car, you will want to look at the factors in phases.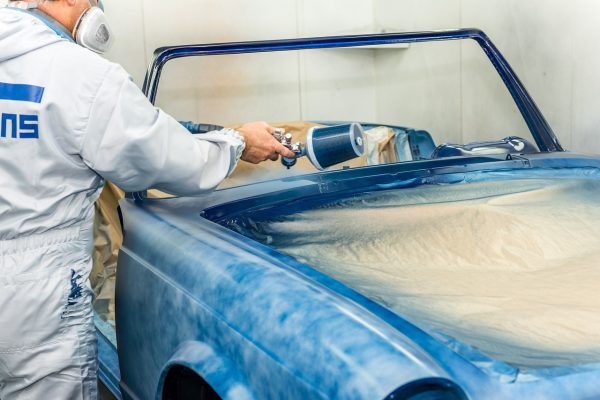 Phase 1 – Inspection
The initial phase, or phase one, would be assessing the damage of the car – if necessary. This requires someone to walk around the car and look at all the kinds of bodywork the car needs. Repairs are not the only thing that must be considered though, the walk around must include an assessment of what parts need to be removed from the car.
Anything along the lines of lights, door handles, emblems and trim must be removed or you're going to add additional time in masking – the use of materials to protect areas from paint, or to focus paint on other areas. A lot of cars nowadays require their front bumper cover to be removed so that the headlamp assemblies are accessible to remove and replace.
As you can already tell, there are lots of extra little tasks that people tend to not consider but they're all time-consuming. For every additional task added to the job, the longer it will take before the car is painted.
Phase 2 – Preparation
The next phase of the journey is to prepare, and by this, I mean ensuring you have the correct paint at hand before pulling the car apart and sanding on it, etc. If the car has been previously painted, will this new paint match it correctly?
Do you like the color you have or do you want the OEM? This phase shouldn't take as long as others as it's more so a decision that may have been made already.
Phase 3 – Disassembly
Now the fun begins! Time to disassemble the car, which can be a very time-consuming part depending on the car's make, model, and age. As I mentioned already, you may have to remove the front bumper and possibly the rear bumper to remove light assemblies. Older cars also have emblems and trim with pins that stick through the body and so removal of these items typically requires pulling door panels and more interior off first.
Fortunately, though, newer cars don't do trim and emblems in this way so they will take a lot less time to strip down. Some older cars have chrome bumpers which must be removed in order to do the job correctly. Depending on the car, it may have glass trims which are difficult to remove if they can be, so you will need time to mask on those.
Trims that cannot be removed must be masked off for the sanding stage of the process because you don't want any of those trims to get damaged. All of these factors within the disassembling of the car can add more time to how long it takes to paint a car so you must be as efficient as possible.
Phase 4 – Bodywork
After removing all components and masking everything necessary, it's time to begin the bodywork. Typically, it's advised to walk around the car and mark every heavy paint chip, peeling off paint, or dent in the body. Start with the dents and damaged areas, one panel at a time as they will make the job more thorough.
Of course, if the car is damaged free, you would only need to apply a basic sanding with a sander. Body repairs themselves on a mild full paint job can take anywhere around 30 hours or greater to complete. Repairing the dents with either the paintless dent repair method or the stud weld gun pull method will require a great amount of time. You may only be able to use one method on certain dents.
The paintless dent repair method requires you to access the backside of the dent, meaning you will need to remove body parts, lights, and possibly the interior. A study weld gun is a lot easier, you place the gun over the dent and it "pulls" it out, but still requires a lot of time.
On top of all this, you also have the time it takes to sand out the paint chips or cracks. All these types of repairs will require the surfaces to be primed, and so, applying primer and sanding would be another phase. If your repair requires priming and sanding again this will start to take up valuable time.
The drying time of the primers must be considered, especially if you're doing a lot of work. A full repair of a car and a clear coat over it all would require you to wait until the next day before starting the sanding. Drying time isn't working time but it's still adding to how many hours does it take to paint a car. If you're only doing small repairs in a few places, you can work on other areas as the primer dries.
After the primer has cured, the next step is to complete block sanding so that the surface of the car is prepared for painting. Block sanding is typically done wet (wet sanding the car) and will leave debris or sludge, so the car must be cleaned afterward. Due to this, the car will probably need to wait until the next day to ensure that it is dry and capable of being worked on. This, of course, adds more valuable time to the length of the paint job.
Phase 5 – Painting
When the car is dry, it's time to wipe down the car to remove any dirt and solvents from the surface before masking off the necessary areas for painting. The car must then be wiped one last time before applying the top coating. Sealer also must be applied to the car, and typically this will be a medium wet coat with a 15 minute or so flash time.
The good thing with professional sealers is that they don't require any prep, you can just apply the paint straight to the car. On average, the sealing and painting process combined will take around 2 to 3 hours, but this will depend on the size of the vehicle of course.
Phase 6 – Detailing
Buffing is the next stage to complete, and most paints can be buffed 12 hours after application but its safe to leave it for at least 24 hours before beginning the detailing. Color sanding the paint is often preferred as the best method for the highest quality result.
Most of the buffing procedures are done in three steps: pulling out the sanding marks, using a milder compound to remove the marks applied by the first compound, and then removing all the buffing swirls with a final compound to leave the paint glossy. This all adds up to more hours being spent on the car's paint finish.
Finally, after the buffing, the car can be washed. It is recommended that the car gets an initial quick wash off before the parts are reassembled and then a complete car wash and towel drying thereafter.
How Long Does it Take to Get Your Car Painted?
As you can tell, there are a lot of components when it comes to how long does it take to paint a whole car. There are so many steps, and the more detail you intend to apply, the more time you need to complete the job. A complete paint job with mild bodywork usually takes between 40 and 80 hours for a quality paint job, given that things run smoothly.
If you have unexpected reactions through the job, like primer bubbling up or something, you will expect to spend greater lengths of time on the job. Yes, the job probably can be done in a lot less time than 40 to 80 hours, but will the paint job last? No! With a job like this, I think it's ever so important to make sure you get it right and do it to your best ability, no matter how long it takes.
If you're paying an Auto Body Shop to complete this paint job, be prepared to pay a lot of money. Though, some may have a flat rate charge for completing a paint job, if your car isn't worth a lot of money, you'll need to decide if your sentimental attachment is worth the price you're paying for the paintwork.
I have picked out this useful YouTube demonstration below which covers this topic in great detail – have a watch and browse around YouTube for more useful videos!
FAQs (Frequently Asked Questions)
Can a car be painted in one day?
Yes, you could easily paint a car within 8 hours, but the next question is whether the job will be any good and will it last? Absolutely not! Painting a car is not something that should be rushed, you should ensure that every step is completed with real attention to detail.
How long should car paint dry before driving?
It's typically said that car paint takes around 12 to 24 hours to dry but there's no guarantee. I'd advise waiting up to 48 hours before driving your freshly painted car. You could, however, tap the paint with your finger in a discrete area after 24 hours to check if you leave a print or it's dry.
---
If you have any questions regarding how long it takes to paint a car, please leave a comment below, with a photo if applicable, so that someone can help you!