by Lahouache
(France)
Hi!
I bought 1 month ago an IR compressor 2 stages from 1979, Type 30 model 242, tank capacity is 80 gallons (300 liters here ine France 😉 ).
It needs 10 minutes to fill from 0 to 8 bars.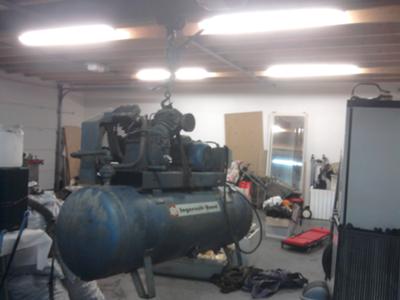 I saw a video on youtube about an old IR from 1968, " Ingersoll Rand Type 30 7.5hp Model 57T " and it was faster (4 minutes) to fill from 0 to 9 bars, but the capacity is not mentioned…
Mine was in a farm. May be need to rebuilt rods and valves…
What you think about that?
Hopefully, we can easily find spare parts for those nice compressor…
Compare to an old french Creyssensac single stage V cylinders 1970 500 liters of my dad, mine is very quiet.
Guillaume.
____________________
Bonjour, Guillaume.
Without seeing the compressor and trying to figure out why, I suspect you have valve wear or gasket failure… but it is impossible to be sure.
The Troubleshooting section has page links about reasons why air compressors will not build pressure, or build pressure fast enough. Maybe have a look at some of the things to check, and if you can pinpoint specifics, I or other visitors may be able to suggest specific solutions.
And, of course, you can always contact IR directly.
---
New comment? New question? Please add it here along with photos to help others help you with your compressor and equipment problem!