Is your Emglo air compressor struggling to reach cut-out pressure? And you're unsure how to diagnose and fix the problem? Well, fear no more! This article will provide you with all the relevant information on why your Emglo compressor can't reach cut-out pressure, including troubleshooting steps to follow!
Table of Contents
Why Won't My Emglo Air Compressor Reach Cut-Out Pressure?
The most likely reason why your Emglo air compressor is not reaching cut-off pressure is due to failing or compromised parts. These can be summarized in the following table:
| Reason | Tip |
| --- | --- |
| Head gasket | It is very possible that your Emglo compressor appears to be building pressure fine, but at some point during cycling, the pressure stalls and the air is unable to flow into the tank due to a failed head gasket. |
| Intake valve | It could also be a failing air intake valve, causing the air to blow right back out of the intake valve instead of being properly drawn into the compressor. |
| Piston seal | If the piston ring seals are not working as they should, the pumps will lose significant pressure and efficiency, resulting in a lack of pressure being built in the compressor. |
| Pump pressure valve | The pump pressure valve could be faulty, allowing air that flows into the tank through it to be drawn right back out of the tank. |
Reasons Why Your Emglo Air Compressor Is Not Reaching Cut-Off Pressure Table
Other possibilities include leaks in various parts of the system. So, if your Emglo air compressor won't reach cut-out pressure, you should be able to diagnose and fix the problem by following these troubleshooting steps:
Conduct a pump-up test
Inspect system for leaks
Clean filters
Inspect system valves
Evaluate belt condition
Inspect pump rings
Inspect air/oil separator
For more detailed information on each of these Emglo air compressor troubleshooting steps visit our Air Compressor Won't Reach Cut-Out Pressure Troubleshooting guide!
Reader Questions & Responses
Emglo Compressor Does Not Reach Cut-Out Pressure – Emglo Air Compressor Troubleshooting
Question
My Emglo k15a-8p turns on but does not seem like it is running full speed.
it builds pressure slowly and only up to around 80psi. I think it is set up as a constant run as when it is full of air, it still runs, but something happens and it runs much quieter.
Now the compressor runs in this "quiet" state all the time. any ideas?
Response
I searched for an Emglo with your part number and found one with the same model number by Jenny. Is this Jenny shown below the same as your compressor?
Constant run compressors have valves that control the intake. When the pressure in the tank reaches cut-out pressure, then that valve opens, unloads the compressor, and the electric motor can run with almost no load, saving wear, tear, and energy costs. Typically this scenario works for liquid fuel-driven air compressors or the bigger rotary screw / rotary vane type.
If your compressor only runs "unloaded", then likely you've got a problem with the unloader circuit.
---
Emglo Compressor Won't Reach Cut-Out Pressure – Troubleshooting Emglo Air Compressor
Question
AM78HC4V has air leaking out of the dipstick
Emglo AirMate AM78HC4V has air leaking out of dipstick bypass holes.
The compressor will not build more than 30 psi.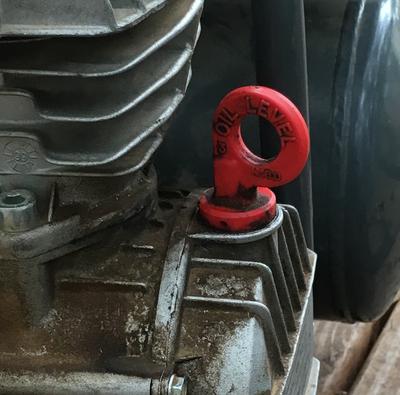 Response
Well, the symptoms indicate that your Airmate has some pretty maintenance-necessary issues.
The combination of air blowing out of the oil fill tube bypass and the fact that the compressor isn't building pressure past the 30 PSI point combine to make me think that this compressor has some badly worn piston seals.
Sure, overfilling the oil could allow a little oil out the fill tube vent holes as the sump ventilates as it is supposed to, but if you are feeling or seeing the evidence of a lot of air, then it's time to tear down the pump and check the cylinder walls, pistons, and replace the piston seals, intake and pressure valves and any gaskets.
---
If you have any questions regarding why your Emglo air compressor won't reach cut-out pressure, please leave a comment below, with a photo if applicable, so that someone can help you!