Hey! This site is reader-supported and we earn commissions if you purchase products from retailers after clicking on a link from our site.
by Bene
(España)
Hello , I have a Kaeser compressor mod. CS91 with SIGMA CONTROL and loading the update I get: CRITICAL ERROR
Please, you get this error ? Thank you very much.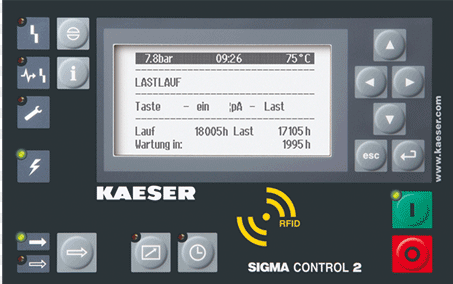 __________________________
Sigma controller error
by: Doug in s.d.ca
I presume this error prevents compressor operation – Were there any symptoms prior to this?
Anything happened to input power?
Are you trying to update the controller soft/firm ware? If so, you'll need to work it out with Kaeser, sorry.
_________________________
Sigma Critical Error
by: Carl
Hi,
Having a critical error on your Sigma isn't good I'm afraid. I work for HPC (Kaesar.)
There are only 2 possible ways of getting rid of this, one being replacing the controller, the other is getting it "K-loaded" which means getting Kaeser in to wipe the software and reinstall, even doing that isn't a guaranteed fix as it could possibly do it again.
Temporarily it sometimes works by turning off at the isolator, leave for 20 minutes and turning back on again. But again, it will possible do it again either straight away or soon after.
This fault wouldn't be because of your update, it can happen at anytime, it isn't often that this happens but when it does, unfortunately it is expensive.
_____________________________
Critical error on Sigma Control kaeser
by: Hassan Raza
Mr. Carl please tell me what do you mean by "Change controller", Processor (intel KU80386EX25) or other component….?? please urgently answer me.
______________________________
Controller
by: Carl
The controller is the whole part where you turn the compressor on and off. The Sigma controller needs replacing. You need to contact Kaesar
___________________
Critical error on Sigma Control kaeser
by: Hassan Raza
But Mr. Carl i am working on this, for repairing the PLC, i hope so I'll successful. i need your help to guide me about this error, according to this error which component is faulty, today i replaced the Intel processor, but fault still same, its mean processor was ok, on display result are like this: check RAM:—OK
Check F memory:—-OK,
replace the controller, critical error,
tell me according to this, is software faulty? or any component?
guide me , i will repair and tell you after any changing. Thanks
_________________________
You need to replace the Sigma Controller itself
by: Carl
There is only one way to fix this, you need to replace the Sigma Controller itself.
You need to contact Kaesar (HPC) and tell them all the details of the compressor (Model, Serial number, pressure settings etc).
There is nothing else you can do I'm afraid.