Convert 110/220 110 wire to make 220?
by Wendell Cornelius
(Guntersville,Al)
I just bought a 30 gal Kobalt from Lowes that came wired for 110 with a 110 cord installed.
I want to connect 220 to it, It has the capability to do this.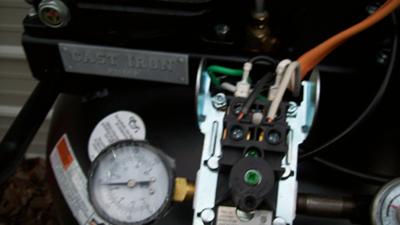 What 220 wires do I connect to the compresses motor. It has a diagram but don't understand. Explain it to me like I am a 4 year old?
_________________
Picture Magic
by: Buster
This where a picture is worth a thousand words.

The wiring diagram should be on the label that explains the motor connections for 110/220 operation, then the power connection, either plug or hardwired connections would need to be connected properly.
What is needed here is the wiring diagram on the motor as there are different connections for different manufacturers.
I know this is not much help, but all that can be done now. Safety first.
Buster
/
Wondering how many watts does a compressor use? Visit our guide here!
If you're wondering how to size a motor pulley, we have a guide with a worked example on our site!
---
New comment? New question? Please add it here along with photos to help others help you with your compressor and equipment problem!