Hey! This site is reader-supported and we earn commissions if you purchase products from retailers after clicking on a link from our site.
by Thom
(Ontario, Canada)
The unloader valve is leaking air when the compressor is running. I had a look at the check valve and all is good. The unloader valve is only leaking when the compressor is running. WHY!!!!
My little 2 gal. hotdog compressor was working very well till last month when the unloader valve opened while the compressor had kicked in to build up the pressure.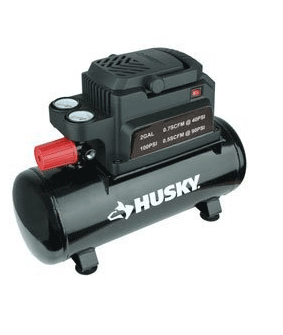 if I shut the compressor off, the check valve seems to be working and no air is leaking out the unloader valve, but as soon as I turn the switch back on and the compressor starts to run and build up the pressure in the tank, the unloader valve leaks continuously.
I'm assuming that there is a problem with the unloader valve.
If the check valve was not seating properly, then wouldn't you think that the already built up pressure in the tank would continue to leak out the unloader valve till empty. This is not the case. The check valve closes and the leak stops. It only leaks when running. Help!
____________________________
Thom, as you say, when the compressor stops, the check valve is what keeps the air in the tank and ready for use downstream. When your compressor is off, the unloader valve does not bleed off air for more than a second or two.
When your compressor starts, the unloader valve bleeds air and this is not supposed to happen if the unloader is cycled by the pressure switch.
I think either you have an unloader valve that is failing, or, the pressure switch is not toggling the unloader valve properly when the switch trips to turn the compressor on.
I added a photo of a 2 gallon hot dog compressor, but I have no idea if this one even looks like yours. This one likely has only a hole in the line to the tank that bleeds all the time the compressor is running, but doesn't bleed when the compressor is off. Is it like yours?
Would you please upload a photo of the compressor and a close up of the unloader valve / pressure switch for us all to see and comment on?
Thanks.
---
New comment? New question? Please add it here along with photos to help others help you with your compressor and equipment problem!