Questions about compressor motor issues and how to deal with compressor motor problems, are cropping up more and more from the ASK page of late. I am a bit specialized in my knowledge of compressed air, I guess, in that I have worked on compressor pneumatic circuitry for years, along with specifying air valves, cylinders etc.
Now I get asked more and more about compressor motor issues, and I am not the guy that has all the answers, for sure. I don't fix electric motors myself, and I am not an electrician.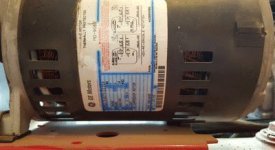 Lots of other air compressor owners do have experience in dealing with compressor motor issues and electricity though, and so I have put this forum page up and invite folks with questions to post them, and folks with answers to provide advice.
If you have a compressor motor problem that isn't already discussed in this forum, please use the form below to add your question. If you read about a question that you can answer, comment on that posting if you would.
I will help where I can. I would appreciate some help from you too.
Cheers,
Bill
---
Reader Questions and Responses
Replacement compressor motor?
Question:
by Bentjones1977
I have a bad electric motor and need to get a new replacement. Can I get one by giving the specs on the motor?
Response:
Hi Mr. Bentjones1977:
Yes, the motor specs will provide the information you need to acquire a new compressor motor. It sounds as though you have the skills to re & re a motor. Good on you!
If it were me looking for a new compressor motor, I would also ask my local compressor store where they get their compressor warranty work done for the compressor you have, take my old motor there, and ask them to give me a new one that was the same.
Or, you will find somewhere near you I would expect, since I don't know where you are, a shop that specializes in electric motors. They rebuild them, re-wire the armatures, sell new, etc. I would find that shop and take the specs…or better yet, the whole motor to them and ask for a replacement.
---
New Compressor Motor Issues – Please add your comment here along with photos to help others help you with your compressor and equipment problem!