Craftsman compressor Reed Valve Problem – Replacement the next step?
By: Rob, from Alabama
Thanks for your great website. I have really been scratching my head about my compressor. A few minutes at the site has been a great help in narrowing down the problem.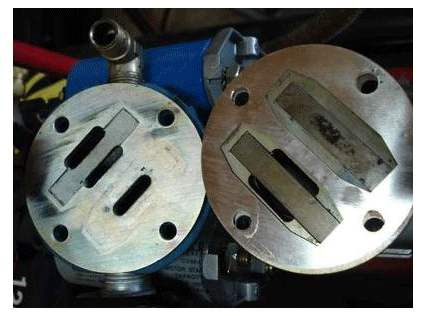 I have a small Craftsman 921.153101–3 gal. 1.5hp unit. It will build pressure. I can hear it leaking–only when it is running. Your reed valve article sent me to check the intake filter assembly. When it is running, I can feel a steady stream of air pouring OUT of the intake.
I tore down the cylinder assembly and the reed valves are not damaged. Is there any easy to to assure that they're seated properly? Do I need to replace the assembly? Just the reeds and the valve plates? I've looked at the parts and (as you once again so wonderfully pointed out) it is not cost effective to send this out to the Sears repair service. The P&L would be as much or more than the unit. Thanks again for all you're doing. Keep up the great work!
_______________
Great picture Rob, and thanks for the kind words. I expect that the reed valves are not working.
Nope, I don't know the check for proper valve seating? Anyone else have any thoughts?
____________________
Check valve
– by: Anthony
Had the same issue with my 5 hp Belaire. Turns out the check valve at the tank had failed and pressure pushing back into the compressor motor.
___________________
Craftsman 15310
– by: Kenney Yale.
Rob I have the exact same compressor and am having issues with it building pressure. The gaskets look ok and are sealed tight, to my knowledge. There is oil. The only air I feel seems to be coming from the generator. I don't know even what the reed set up is supposed to be. Is it one reed per slot??? I have 2 reeds and 2 slots. It looks like they both fit in one slot. What did yours look like?
---
New comment? New question? Please add it here along with photos to help others help you with your compressor and equipment problem!