What compressed air applications and what air devices are you planning on using, or need to use?
Or, what compressed air applications and equipment do you have in the workshop or plant right now?
You will want to know this information to help determine the size of a compressor, or a new compressor, should one be required due to increasing load on the compressed air supply in the plant.
Some suggestions for typical in-plant usage of compressed air are listed below. Have a look at them, and make a note of the applications listed that you plan on using now, and those that you think you might have a use for in the future, to help you determine what size of compressor you need..
Please don't be constrained just by the applications shown below. Add all your own air consumption ideas too, any other compressed air applications you can think of.
You don't want to miss any potential compressed air uses in your plant or DIY workshop. If you are compressor shopping, you want to ensure that you purchase enough compressor capacity in CFM, at the needed air pressure, for all of those compressed air using applications.
The rule of thumb is that (at least as it's concerned with compressors over 10 HP in size) your compressor will generate about 4 CFM of compressed air at 90 PSI for each horsepower of your compressor's motor.
Assuming an adequate duty cycle a 10 HP compressor should be able to continuously provide about 40 CFM of compressed air at 90 PSI.
All of your air tools will have a consumption figure, and it will say that this tool needs "so much" compressed air in CFM (some will use SCFM) at "so many" PSI (pounds per square inch of pressure) for the tool to work properly. Obviously, a small air tool of one kind will use less compressed air than will a large air tool of the same kind.
The list below will help give you a good sense of what size compressor you're going to need when you go looking to purchase your first, or a replacement, air compressor.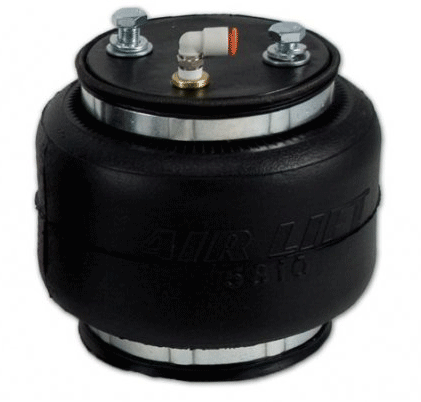 Air Bags (usually used for heavy lifting and gravity return)
Air Chisels
Air Chillers (cabinet or panel coolers)
Air Grinders
Air Guns
Air Hammers
Air Knives (Cleaning off parts, or drying parts)
Air Motors
Air Wrenches
Air Valves (the type that drive air actuators)
Air Actuators
Blow Off Nozzles (Usually in quality control type applications
Impact guns
Instrument Air
Paint Guns
Production Air (perhaps blow molding, etc.)
If you are using any of the air driven tools or equipment listed above, how many of each?
Assume the worst case in terms of use, as you need to have an air 'safety margin' when buying a compressor.
Take your time and try to think about all of the possible applications in your plant processes that could use air, and factor them into your compressor sizing formula. Make your list, using the ideas above and your own. Look on the sizing your compressor page on this site for compressed air consumption numbers for some popular air tools.
If you have acquired a large piece of equipment with many compressed air components built in, lots of air cylinders, clamps and so on, the manufacturer of that equipment should have provided you with the compressed air consumption data on the components, and perhaps even a total for the machine; so many CFM at such and such a pressure. If you can't find it, ask them for it.
And let's not forget wasted air! Some experts suggest that you should factor in at least an extra10% of your overall air consumption as being what any plant will waste due to horseplay, and the air leaks that plague every industrial facility.
Oversize Your Air Compressor?
In my opinion it is far better to get a compressor that's a bit, or sometimes even a lot, oversized, than to purchase one that's almost immediately under-sized. Getting a too big compressor might seem like folly, but if your plant production is boosted, or if the product you are manufacturing has growth in the marketplace, having a large enough compressor will save you from scrambling for more capacity after the fact.
Buying the undersized compressor might save some up-front capital expense, but compressor overuse can lead to excessive maintenance costs for the compressor, and possibly even for the downstream air-driven components as well, and leave you scrambling for additional compressed air capacity right from the get go.
Get a compressor that's the right size for your needs, for now, and for as long as you expect that compressor to last.
Did you know that….
Every two pounds-per-square-inch decrease in compressor pressure will reduce your operating costs 1.5 percent.
Source: www.mntap.umn.edu