Hi, I have a Champion compressor advantage series. All of the sudden the compressor will not start,
It was found that they did not drain for a while. So we opened the valve and lot of water came out.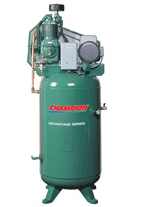 After that we power the compressor and it will not start. It will start only when you hold the RESET button. If you release the RESET button, it will stop, Please advice
Thank You
sudhakar Tammireddi
______________________________
You are powering the compressor with a 240 volt feed I expect, though I don't know if yours is the 5 HP or the greater HP compressor.
The reset button is often a thermal cut out, shutting power to the motor if it starts to overheat.
If the motor is cool, and you have to press down on the switch for the compressor to run, it may be that the thermal overload switch itself has failed.
If the motor is overly hot and you continue to over-ride the thermal cut out, then you will likely be damaging your compressor motor.
Does the same symptom occur if you try to start the air compressor with the tank empty of air?
________________________________
Issue with the compressor
by: Sudhakar
Thank you for the update. This compressor has been running for the past 2 years with no issues. It just started behaving recently.
We drained the tank completely. The only way it runs when the RESET button is pressed.
The moment we release the RESET BUTTON the compressor stops. All the electrical connections are as per requirement.
We used to drain from the safety valve earlier instead draining from the bottom of the tank and this built lot of water in the tank. Now we have drained completely but still this problem. Looking forward for your advice.
_________________________________
Reset failing
Bill
I surmise that the reset button itself is at fault if the air compressor won't even try to start when cold.
To test the theory remove it from the circuit briefly by jumping a wire around it. If the compressor starts then you know it's the reset switch, and a replacement should solve the problem. I recommend that you do NOT run the compressor for any length of time without the reset, except for the brief period of testing.
If the Champion still doesn't start, please comment.
---
New comment? New question? Please add it here along with photos to help others help you with your compressor and equipment problem!