The Central Pneumatic model 94667 air compressor has a 21 gallon vertical tank. The maximum air pressure for this compressor is 115 PSI, and has an air delivery capability adequate for running many air tools, except high demand ones like larger grinders, drills, impact wrenches etc.
With a reputed 3 HP motor, this pump should be able to output 10-12 CFM at 90 PSI. It cannot. You cannot run a 3 HP motor at full capacity when it is powered by a 120 VAC circuit, as the 94667 is.
The specifications say that it will generate about 4.9 CFM at 90 PSI configured as it is out of the box.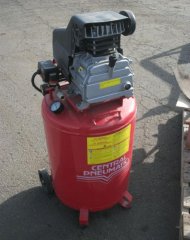 I suspect the actual output will be lower than that, so be careful if selecting this or a similarly sized air compressor to try and run higher demand air tools like wrenches, grinders, sand blasters and so on. They just will not work properly – or run for very long – with the relatively low output of the Central Pneumatic 94667.
There is lots of interest in the model 94667, judged by the number of comments about this model, so I have created it's own page on this site.
Fixing a Central Pneumatic Model 94667 Air Compressor
A visitor by the name of Cal offered the following information about his Central Pneumatic #94667 air compressor.
"Looking for replacement parts for my Harbor Freight #94667 (discontinued), I found Valve Plate Kit HL026100AV normally used on a Campbell Hausfeld HL4000. This kit contains not only valve plate, reed valve and pins, but also a complete head gasket set. The cylinder head for the HL4000, Part # HL022600AV, is a great replacement for the cylinder also. Hope this helps."
Another anonymous visitor offers this advice: "Found the gaskets for the 94667 Campbell Hausfeld and Husky model HL4000 are exactly the same as the #94667. Whoever makes the compressor obviously sells them to several retailers. You can buy the head rebuild kit HL026100AV for less than $25 on ebay or lots of other web sites. It includes all gaskets, reed valves, and the head plate. And I'm guessing other HL4000 parts will fit on the #94667, too. I know this works, just did my #94667 and now it pumps right up and shuts off."
Thanks for that. Very useful information.
Make Gaskets for the Central Pneumatic #94667 Compressor
Recognize first of all that a compressor pump head gets very, very hot in operation. Yes, you can burn skin with the heat generated, so any gasket material used for compressor pump gaskets has to be heat resistant.
Another visitor writes that they acquired gasketing material. They disassembled the pump and located all the gaskets that were present. They then either removed them to use as a template to make new ones, or used the surface where the original gaskets were installed as a template for the new one if the old gasket was beyond removal in one piece. They marked the new gasket material appropriately, and cut the material to suit.
Central Pneumatic #94667 air compressor manual
Click the link to download the manual to your computer. Don't forget to save it so you have it for future use.
Do you have a Central Pneumatic manual for any model in digital format? If so, if you would like to share it, you can upload a .pdf using the form at the end of this page.
You can also use this form post your own question about the 94667 air compressor from Central Pneumatic (Harbor Freight).
On your way down to that form, maybe review the existing comments posted below and maybe even look at the troubleshooting page linked from the navigation column which contains solutions to many common air compressor problems?
Thanks,
Bill
---
Existing Central Pneumatic Model 94667 compressor comments:
I have the same compressor i picked up for 45 bucks the other day and it needs a new top end
The unit seems to work fine but the compressor leaks oil and leave oil all over the floor
---
New comment? New question? Please add it here along with photos to help others help you with your compressor and equipment problem!