What can you do when your Campbell Hausfeld compressor will not start? Here are questions sent in by visitors, and responses about this Campbell Hausfeld compressor problem.
Question: I have a 60 gallon, 5hp compressor. I just installed a new pressure switch that cuts in at 140 and out at 175. After running for a while, I got nervous and flipped the pressure switch to the off position. Now when I toggle the switch to auto, it doesn't make contact unless I take the cover off and manually push to make the contact. Did I ruin my new pressure switch and how long does it typically take to build up to 175psi?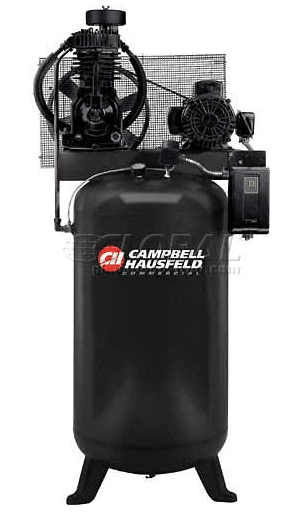 ___________________
You have replaced a pressure switch, right? The new one cuts in at 140 PSI and out at 175 PSI, and this makes you nervous? How come?
Is it because you are trying to run your compressor at a higher pressure level than the original switch? If you are, my advice is… don't!
What is the air pressure in the tank when you "get nervous" and trip off the pressure switch manually? If the tank pressure is higher than the 140 PSI cut in pressure, then your pressure switch will not trip to on automatically.
Try this. Shut the power off, drain the tank to zero PSI, leave the pressure switch alone, and power on the compressor. What happens?
____________________
Comment: Problem solved.
Thanks for your quick response. I didn't have a gauge at the tank, so I didn't know the pressure there. That is why I was nervous. I just wanted to make sure it was working properly before use since I fixed it myself. I opened my in-line gauge at the moisture trap to 175 and it shows the compressor cutting in at 125 and out at 160. Please forgive my ignorance. I believe my compressor is working as it should now. Thanks!
---
Question: A 5hp 60gallon Campbell Hausfeld wont start – this air compressor is really old thinking maybe around 20 yrs, anyways runs great but goes through a pressure switch at least once a year, use it for automotive body repairs and paint and automotive mechanical repairs but no constant just side work.
i keep replacing switches with Campbell Hausfeld brand, replaced the check valve, but have come to find that one of my two capacitors is swollen, i am in the process of ordering one but was wondering if you think this is the reason why it keeps going through pressure switches or do i need to give up on this air compressor, i would like to quit replacing switches like this, they get expensive after a while. thanks for you help.
__________________________
After 20 years, I'd say this air compressor doesn't owe you a lot. A $30 repair once a year is sure a lot less than buying a new, and perhaps not nearly the same quality as your original, air compressor.
From your post Burton, I can't determine what it is about your compressor pressure switch that is failing?
If it is a points burn out, could be a supply voltage problem, or could be a capacitor / motor pulling too much current on start up.
Folks tend to add other electrical devices over time, and if some of them are pulling from the same power feed as you have to your air compressor, it is possible that it's not getting enough power to run properly, and that is sometimes manifested in burn switch contacts.