Hey! This site is reader-supported and we earn commissions if you purchase products from retailers after clicking on a link from our site.
When a circuit breaker trips, it will shut down the air compressor system, and work comes to a halt. When a Campbell Hausfeld air compressor trips breaker, it's a worrying issue, as you'll no longer be able to use your air tools.
Therefore, it is important to understand the reasons why your Campbell Hausfeld air compressor is tripping breaker, and so, this article will provide you with all the relevant information, along with existing reader questions and responses.
Table of Contents
Most Common Reasons Your Campbell Hausfeld Air Compressor Trips Breaker
Here is a list of the most common reasons your Campbell Hausfeld air compressor is tripping breaker:
Air filters – if they are dirty, you will likely need to replace them
Broken extension cords – are notorious for throttling power, and therefore you may be underpowering your compressor motor by using one.
Clogged cylinders – can hinder performance and trip breaker. You should inspect the cylinders (if your compressor has any).
Faulty circuit breaker – of course, it could be the circuit breaker that is faulty. Replace if necessary.
Faulty motor – the motor windings or any other electrical connections inside the motor may be shorting and this sudden flow of electricity pulls too many amps, tripping the breaker.
Failed capacitor – a failing capacitor can cause the breaker to trip, you should seek professional help to test this.
Failed unloader valve – When an unloader valve fails, compressed air will become trapped over the cylinder piston and this adds to the load the compressor motor experiences on startup, tripping the breaker.
For more detailed information on why an air compressor circuit breaker trips, visit our guide!
Reader Questions & Responses
Campbell Hausfeld Air Compressor Keeps Tripping Breaker – Campbell Hausfeld Air Compressor Troubleshooting
Question
I have a 10-year-old Campbell Hausfeld 5HP 120v on a dedicated ckt. Has run flawlessly since new. I occasionally leave it turned on when I'm using it a lot, so I don't have to wait for it to pump up. Now this Campbell Hausfeld compressor trips breaker.
Went out yesterday to pump up a tire and had no air pressure and the breaker was tripped.
Reset breaker, it ran for about 4 sec slowly, then tripped breaker again…repeatedly.
Removed drive belt and started again…motor ran normal speed, but then tripped breaker after 4 sec with no load. What do you think?
Response
Dave, that's a good one.
Good that you pulled the belt to check, as for me, that pretty much identifies the motor circuit as the source of the problem.
See this page on this site about checking your capacitors, as that would be the first thing I would check if my compressor was exhibiting your symptoms.
Questioner
It turns out that I had a bad run capacitor in the motor. It was visibly swollen and shorted.
$27.50 for a new cap from my local motor shop and I'm back in business.
Thanks for all the suggestions.
---
Campbell Hausfeld Compressor Trips Breaker – Troubleshooting Campbell Hausfeld Compressor
Question
But after using it for a while, the pressure goes down and it won't turn back on, and trips the main fuse after it makes a starting sound, then a sound of air escaping coming from below the switch.
I have already replaced the broken fan and the rusted valve plate(kit) (pls. note..it's not the check valve)
Response
Edwin, the sound of air rushing from the pressure switch is, I suspect, that of the UNLOADER VALVE working.
The unloader valve opens when the pressure switch trips the power off, shutting off the compressor motor.
When the pressure switch trips on at low pressure cut in, that closes the pressure switch, while the air compressor is running.
That your compressor dumps air again after trying to start suggests to me that it is your pressure switch that is failing, and when trying to start the air compressor, shorts the power, blowing the breaker, and tripping the pressure switch back off. I think!
If the pressure in the tank is below cut in, the compressor should start. When the tank pressure reaches cut out, the compressor should start. Both of these actions are initiated by the pressure switch reacting to the changing pressure in the tank.
If the pressure switch trips to off before the tank pressure reaches cut out, it is probably the pressure switch that's at fault, and it's shorting the circuit.
Questioner
I have disconnected the motor from the compressor and direct-wired it to an outlet wired directly off the outside power supply.
What I am saying is this, the only wire between the motor and the power is the cord of about three feet long, a temporary outlet, and a breaker.
I plug it in and it blows the breaker! I took motor to an electric shop and the fellow there replaced the run capacitor it runs on his power supply?
I took it back home it blows the breaker immediately even with the new capacitor. Pretty frustrated now since the electric fellow can run without a problem. OK, so I am really scratching my head now?
Response
If it runs at the repair shop, suggesting that the capacitor and the motor are fine, then the only variable is your power supply. You may have only a short cord to the motor, but what else is on the same circuit that is pulling power as your compressor motor is trying to run?
Response
A slow motor 1/2 speed indicates the wrong motor voltage. Dual Voltage Motor, may be wired for high voltage 220 volts or may be 3 phase motor not single phase. Check motor plate for correct voltage and wiring. It is common for factories to ship motors wired to a higher voltage.
You must set to the voltage being used. Motor plate or spec sheet will state min. fusing required and maximum fuse allowed
Questioner
Thanks, Bill, however that didn't work either. It will run slower than usual like a half power then trip circuit breaker after about 5 seconds. It appears as though it simply can't pull enough power but I am certain it has plenty for its rating. Thank you. What can I look at next?
---
Campbell Hausfeld Air Compressor Trips Breaker
Question
I have a Campbell Hausfeld (6 hp 30 gallons) air compressor model WL611201aj that is about 14 years old.
When I turn it on the motor runs slowly and then trips the breaker.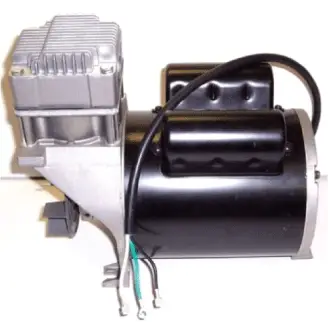 It doesn't matter if there is pressure or not in the tank. I have it plugged directly into a 120v 15 amp outlet. It has worked fine at the current location for some time. I recently switched outlets and the same result. If I use WL373001SJ Campbell Hausfeld Air Compressor Pump / Motor Kit replacement.
Will this fix the issue?
Thank you.
Response
Vincent, if this was my Campbell Hausfeld air compressor, from the symptoms you describe, I would be checking out the start capacitor.
That would be quite a bit lower cost fix than the kit you refer to.
If you prefer, however, I do believe that the kit would resolve your compressor problem.
Response
I agree with Bill, start capacitor would be where to start on this one.
Buster
Questioner
Can someone help me identify where the start capacitor is located on this model?
Response
Vincent, the two "humps" sitting on the motor are the capacitors. One is the start cap, the other is the run cap.
Questioner
I believe I have identified the start capacitor in this compressor. I have checked it according to the checking capacitors page listed here and it is bad. as well as split and leaking. The numbers listed are Aerovox c103237300423. 233-280mfd. 220vac. 60hz. The 220vac is confusing me. The compressor has run from a 110v 20 amp circuit for years. Anyhow, can someone tell me the best place to locate the correct capacitor?
Response
I suspect the rating indicates that it's good up to 220 VAC.
As to getting one, why not start with Aerovox themselves?
Questioner
But when I removed the belt, the motor runs without tripping the circuit breaker. would this still be a starter capacitor problem? if so, please explain. thanks.
Response
Your motor may have two capacitors or one that does both jobs – start and run.
If either is failing the motor will run hot if it starts.
The motor itself may be suspect.
One check to try and determine what has failed is to check the capacitors to take them out of the equation. See that page on this site for help in so doing.
By disconnecting the motor from any load, you reduce the inrush necessary to start the motor, and it runs. Add the belt, you increase the load, and the motor cannot start against it as, I suspect, the start capacitor cannot deliver the added power to get the motor going.
Questioner
Thanks, bill! I replaced the starter capacitor and all is well again.
---
If you have any questions regarding your Campbell Hausfeld air compressor tripping breaker, please leave a comment below, with a photo if applicable, so that someone can help you!