The Bostitch CAP2000 compressor is typically a job site or small workshop oriented unit, quite portable (about 40 lbs weight), is non-lube, has an upper pressure limit of 150 PSI output, and can produce about 2.8 CFM at 90 PSI.
This model has been superseded by Bostitch. The newer versions look identical to the original Bostitch CAP2000 compressor.
I have received quite a number of questions via the ASK page and the Bostitch compressor forum page about the model CAP 2000, so I have decided that this model of air compressor merits its own page for folks using this air compressor, that may or may not have had problems with them, and would either like to ask a question or to post a comment.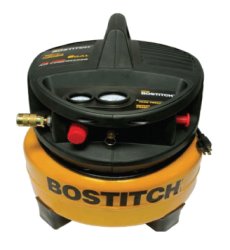 You can use the form below to post a question about the CAP 2000 Bostitch air compressor.
If you can advice for any of the posts we'd all appreciate it if you would do so.
Thanks,
Bill
Existing posts about the CAP 2000 air compressor
---
New comment? New question? Please add it here along with photos to help others help you with your compressor and equipment problem!