We are looking to install a quiet indoor compressor into a salon / barber shop and the air will be piped out to each station. What style / brand do you recommend? Any design considerations? Can you tell me what would be the best indoor air compressor for a barber shop, says Jesse of Phoenix AZ USA.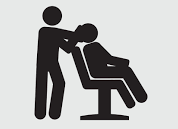 Well Jesse, while I've never been asked for a recommendation for a compressor for a barber shop before, the criteria of selection you want is pretty much the same for anyone selecting a compressor.
One of the first things that would concern me about a compressor for indoors and near where clients would be is the noise they can make.
Information about that is covered on many pages of this site.  This page is an excellent place to start.
Would you take a few minutes and read the linked page and then, if you still have more questions, maybe add specifics about what you want to know?
Another question about : Air pressure in Barber Shop!
What is the ideal Air cleaning pressure in Barber Shops?
I think air compressor pressure usually 100 or 125 psi is too high, even dangerous for the ear drums, eyes etc., asks Adolfo.
Good question, Adolfo.
The answer, as is written on pages on this site, is to use the minimum pressure level in PSI that will do the job.
Different clean off or blow off locations will likely require different pressures to do the job properly.
Use the regulator on the compressor to lower the pressure to the blow gun to the lowest effective pressure.
Your comment about pressure safety are right on! Care must always be taken using compressed air in all applications, including cleaning off benches etc.