by Cooper Reese
(Taji Airbase, Iraq)
I have a Yanmar diesel with an Ingersoll rand tank and compressor mounted to a trailer for portability.
The team works fine together until the air gets real hot.
At that point, the engine stays at idle and sounds as if it is going to choke down at any second.
I am an aircraft mechanic. I know nothing about air compressors other than how to hook an air tool up to one.
There is an actuator coming from the the relief valve mounted on the tank. The actuator is linked to the fuel control on the engine (it sits beside the motor on this trailer).
Like I said, it works fine for 10-15 min, then after it heats up good, the pressure barely makes it to 70psi (normally 140-150 easy) and it takes forever to get up to that pressure (at start up, normally 30 seconds and the tank is full)
I have no idea what models these tanks and compressors are at this time.
Any idea as to what is going on wrong?
Any help will be great.
Only bad thing is, I am in Iraq as a civilian and the availability of hardware stores are slim right now….
Cooper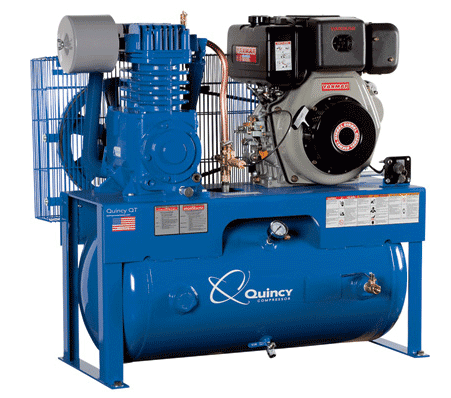 ---
Howdy Cooper, very nice to have you visiting my site from Iraq.
Trying to diagnose a compressor problem from afar would be tough enough for a compressor mechanic, and it's even tougher for me since I'm not a mechanic.
So, what's getting hot? The air in the tank, the compressor itself, the diesel engine?
It sounds like your system is using a pressure bleed from the PRV to modulate the operation of the diesel, in other words, a typical throttle / unload controller.
The actuator presumably shifts one way when the pressure in the tank is low and this opens the throttle on the diesel to generate more air? Then as the pressure of the compressed air in the tank increases, that shifts the actuator again, reducing the speed of the engine. I'm just guessing here.
It sounds like when it gets hot the temperature is negatively affecting the operation of that throttle mechanism, and as you say, " the engine stays at idle and sounds as if it is going to choke down at any second".
That would suggest to me that the system is "thinking" that there's more pressure available than there really is, and it won't let the motor throttle up.
And if it only happens when it (whatever it is) gets hot, then the heat has to be affecting this throttle mechanism to prevent it's proper operation.
That's about what I can contribute. Sorry I couldn't be any help.
Any other visitors have any ideas for Cooper?
Bill
Comment? Please add it here along with photos to help others help you with your compressor and equipment problem!