by Duane
(Houston, Texas)
I bought this unit about 8 years ago for $250 because it had a rod that was egg-shaped at the crankshaft end (probably run low on oil). I rebuilt the pump and it's been a champ ever since!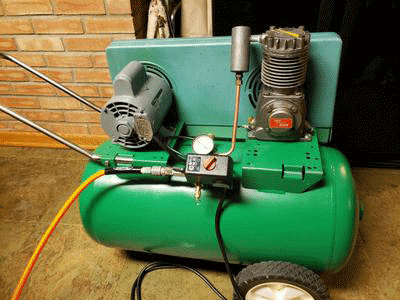 I'm restoring a '66 Dodge Charger and I sandblast with a pressure pot or cabinet depending on part size.
With this size Speedaire compressor (9.7 cfm at max pressure at 440 rpm) I can simply keep blasting 'til I run out of sand. It could be better if it put out more cfm, but it suits me just fine. Paint small parts with a touch up gun or spray can and get good results/atomization.
I am now moving on to the engine compartment and eventually body panel paint. I'm looking at a good mid level gun – 13 cfm @ 40 psi (Devilbiss Finish Line). The pump on my compressor is also used on the 5hp unit running at 734 rpm and 17.3 cfm.
My question has to do with going to a larger pulley on my 3hp motor to spin the pump a little faster. I assume there'll be a point of diminishing returns where too big a pulley will cause the motor to draw too much amperage and kick the breaker (when hot or during start-up). Thinking about going from a 4.4″ pulley to a 6.2″ pulley (5hp motor runs a 7.1″ pulley). Any thoughts/suggestions? Want to avoid buying a new motor. Thanks, Duane
________________________
Duane, your logic about the diminishing returns is spot on.
One other thought… the pump was built to run at a specific speed, that brought about by the size of the sheaves on the motor and pump. By altering these, you are moving the pump speed out of its designed zone, and I do not know the ramifications of this. I suspect they cannot be good.
If you are willing to risk mechanical failure by so doing, carry on. You should increase the discharge volume, as long as the pump lasts. It were my compressor, I probably wouldn't unless I had a store of parts to rebuild the pump when it failed.