I've had some trouble getting the flow out of my Craftsman compressor that I need. I have two 1/4″ x 25′ hoses with all kinds of quick connects in between. After reading a bunch of stuff here online it seems to me I have to better organize the out put side on my system, perhaps upgrading to a larger ID hose. . . .BUT . . I have a basic question, writes Ken Abel from Plainfield, NJ
Does it matter if I connect with a 3/8″ or 1/2″ hose if the outlet of my compressor is just 1/4″ ??? Doesn't that set the limitation right from the start?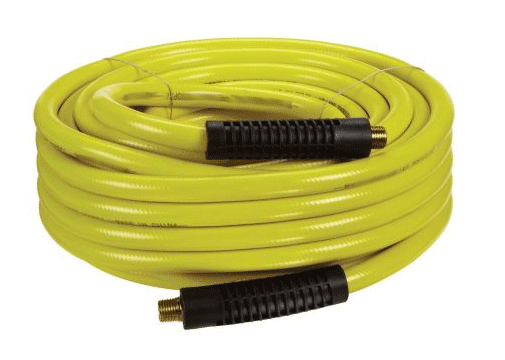 1/4″ Outlet with 3/8″ Hose? What's the point?
What's the point? Good question with a fairly complex answer, Ken. The pages about pressure drop on this site will provide much more detail but a quick synopsis of those pages is… if you've a long hose with a larger diameter than the outlet from the compressor, that's good as it will minimize air turbulence which limits air flow.
A long hose with a diameter equal to the outlet size will create more air turbulence, and greater pressure drop over the length of the hose and create lower flow.
Moving from a larger port size to a smaller hose to transport compressed air will create even more flow-restriction.
When you say yours has "all kinds of quick connects in between", each fitting adds to the pressure drop of the air as it passes. A long enough hose with enough fittings would end up with virtually no flow at the outgoing end.
When you say "trouble getting the flow out of my Craftsman compressor that i need" to me that suggests that your compressor is undersized for the air demand. You might consider looking at the compressor sizing pages on this site too, for some insight into this.
A 1/4″ I.D. air line flows an enormous amount of air. Odds are good then that if your air tool isn't getting the air it needs, and assuming you aren't trying to run an impact wrench with 3/4″ port with a 1/3″ air line, it's not the plumbing that is the issue, but the capacity of the compressor. You may need a bigger one.
_______________________
Bigger hose?
by: Doug in s.d.ca.
If you do the math, you'll see that a 3/8 hose is *twice* as big as 1/4.
So, those 1/4 in. hoses are a problem, definitely, unless you're running a pretty small tool.
But get bigger hoses first. There are also "high flow" (larger I.D. than industrial or Tru-Flate) couplers out there too. Since you'll be probably be needing some new ones, you might consider them.
You might also have a poor regulator, not passing the volume of air it should (or maybe not what *you need*).
What ARE you trying to run, anyway?